Falling Waters
Battlefield Association
Map of the Battle of Falling Waters, July 2, 1861
A general overview of the various units involved in the fighting at Falling Waters has been super-imposed over a modern day road map of northern Berkeley County in order to provide some perspective of where the battle took place.
Click map below for a larger view or click here to print a fullsize copy.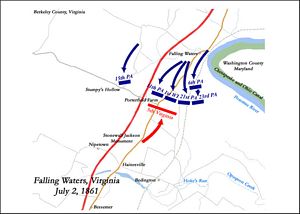 Local
Directions
From I-81 take Spring Mills Exit 20, then proceed West on Hammonds Mill Road (WV 901). T.J. Jackson Drive is the first road on the left (south side) approximately 300 yards west of I-81. The library is on the corner, next to, but set back from the CNB Bank, across the street from the Shell Gas Station & Convenience Store. Library Phone Number: (304) 274-3443.