Falling Waters
Battlefield Association
Calm Under Fire
by Mark Churms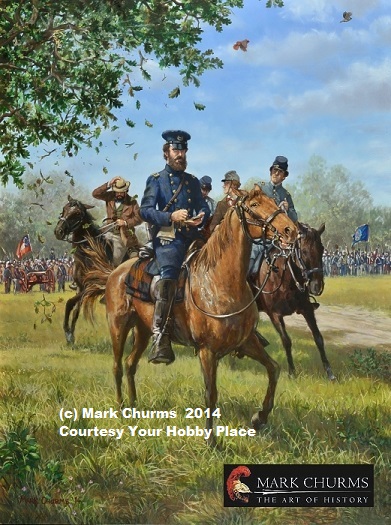 At the Battle of Falling Waters, July 2, 1861, wearing the blue uniform of a Virginia Military Institute Professor, Col. Thomas J. Jackson rides a small brown horse he named "Fancy"; more commonly known as "Little Sorrel".
A courier from Winchester has just ridden up on the Valley Pike and handed Jackson a dispatch from Gen. Johnston. As he begins to pencil his reply, a Federal Cannon shot passes through the branches of a nearby white oak tree, scattering Jackson with leaves, bark and twigs! Brushing these away, he will calmly finish writing, not acknowledging the danger.
The courier, and Staff Officers E. G. Lee and "Sandy" Pendleton, react to the near miss, as troops of the 2nd Virginia infantry cheer their stoic Commander! Nearby two of the VMI cadet guns, manned by the 1st Rockbridge Artillery, wait in reserve. Jackson's calm reaction to this near miss, impressed his troops and helped start the mystique surrounding the man soon to be known as "Stonewall".
Signed prints of various sizes, Giclee canvas or paper, framed and unframed are available. For prices please contact:
Your Hobby Place
77 Monroe Street
Martinsburg, WV 25404
Phone (304) 267-3110
Website: www.yourhobbyplace.com
Email: info@yourhobbyplace.com
Local
Directions
From I-81 take Spring Mills Exit 20, then proceed West on Hammonds Mill Road (WV 901). T.J. Jackson Drive is the first road on the left (south side) approximately 300 yards west of I-81. The library is on the corner, next to, but set back from the CNB Bank, across the street from the Shell Gas Station & Convenience Store. Library Phone Number: (304) 274-3443.